Well, apparently it's book month. I didn't plan it that way, but after weeks of illness, perhaps gushing over my favorite books requires the least amount of energy and provides the most therapeutic joy.
Oh, and I also wanted to get some book ideas out there prior to advent and the start the Christmas gift buying season.
A highlight of our advent season is the unpacking of our box of beautiful Christmas books. They, like our favorite ornaments, embody the ghosts of Christmases past. Each holds a dear memory - curling up by the fire with hot chocolate in hand, the twinkle of Christmas tree lights dappling the ceiling, babes in footed fleece pjs cuddling on mommy, or the "remember whens" represented by many of the vacation-purchased ornaments. Out of that box of books, we unpack love, anticipation, excitement and tradition, and every year, we look forward to carefully choosing and adding a new addition or two.
A few years ago, we began a new Christmas tradition. The kiddos open their sleepy eyes Christmas morning to find a small stack of books sitting at the foot of their beds. The day starts peacefully, as they enjoy exploring the newest additions to their libraries. Mom and Dad also happen to benefit from a little more sleep before the present-opening festivities begin. We do love our books!
Here are a few of our favorite Christmas books, and two new ones we'll be adding to the family:
12. We're looking forward to receiving a copy of Russ Ramsey's new book Behold the Lamb of God. For those of you who are familiar with Andrew Peterson's Behold the Lamb of God Christmas concerts, this is written with the same heartbeat.
"When Andrew Peterson sings 'Behold the Lamb,' three worlds collide: ours, Abraham's and Jesus'. Russ Ramsey's book opens the doors between those worlds and helps us bring them together." Michael Card
Behold the Lamb of God can be used either for personal reflection or as a family devotional during advent. The jury is out regarding the book's inaugural use in our home (I may selfishly monopolize this first year), but I look forward to incorporating it into our annual Christmas reading list.
If you would like to download a free preview of Behold the Lamb of God or place an order, you can visit here. There is also an option to bundle the book along with the CD, which makes a great Christmas present for those who are unfamiliar with Andrew Peterson's music. You really can't go wrong with an amazing songwriter (Peterson) and a fellow-appreciator of Rembrandt (Ramsey).
11. If you have young ones in your life, you won't want to miss Sally Lloyd-Jones' new picture book Song of the Stars. Our copy is in the mail, so I can't yet testify as to its beauty and warmth; however, I have the fullest confidence that I will soon be able to do so.
"The Psalms tell us that the created order now declares the glory of God (Psalm 19 and 65) and then when Jesus returns even the trees will sing for Joy (Psalm 96). How fitting, then, to imagine the animals and stars sensing and rejoicing in the coming of Christ for the first time. This is a lovely book!" Tim Keller
Perfect for young ones, or those who are young at heart. You can purchase Song of the Stars here.
10. A few years ago, a dear friend loaned a copy of Jotham's Journey to us for use during advent, and I was not prepared for the significant impact that reading it would have on our family. Jotham's Journey is the first of a trilogy in which Arnold Yuletide weaves together the story of a young boy, his friends and their adventures leading up to the birth of Christ. In reading these books, we're able to pull away from the hectic pace and distraction of our society in order to stop and consider the world into which Jesus was born. A world ruled by the Roman Empire, a world of oppression, a world of political domination, a world of slavery... a world in need of a Savior. Far from the typical peaceful manger scenes found in many children's books, Jotham's Journey is rich in suspense, danger, anticipation, and confusion around the events that take place.
Each of the three books ( Jotham's Journey, Tabitha's Travels and Bartholomew's Passage) represents the viewpoint of one of the three friends, and the books don't necessarily need to be read in a particular order. We read one each year, and I'm amazed by the corroborating details that the children remember from prior years. Each chapter is to be read on a given day during advent and has a short devotional at it's end. Given the intense nature of the political and social climate, I wouldn't recommend that they be read to children younger than elementary age. There is enough substance and depth that these books would easily be enjoyed and appreciated by those without children in the home.
You can order Jotham's Journey or its sibling books here.
9. The Birds' Christmas Carol is a heart-warming story about a little girl, who although sick and bedridden, embodies gratefulness and unselfishness as she plans a Christmas celebration for a needy neighboring family. Written and published in 1887, this book whisks the reader back to the Victorian era, yet the love, compassion, and humorous family dynamics shared are timeless.
*You can download The Birds' Christmas Carol for free at gutenberg.org
8. The Christmas Stories of George MacDonald. How can you go wrong...
7. We recently discovered This Way to Christmas by Ruth Sawyer. In this delightful folktale, a young boy is sent away to live on a lonely mountain during the war. As he gradually befriends his neighbors, he hears their tales of Christmas celebrations from other cultures. I'd recommend that this book be read aloud, as there are a few sections which deal with prejudice, and some of the terminology merits discussing (or avoiding if you're reading with young children). As one would expect, all ends well as the diverse, superstitious, isolated neighbors discover and enjoy community.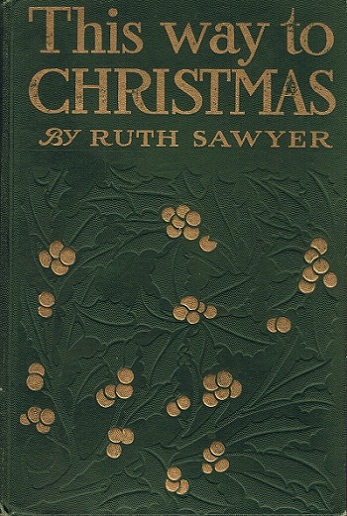 6. Plum Pudding for Christmas by Virginia Kahl is pure fun. True to her other books, it is written in rhyme, and is delightfully witty. The king is away, and all chaos breaks loose when one of his many daughters eats the last plum in the kingdom. How will a fitting Christmas celebration be possible? Although out of print, it's fairly easy to find on Amazon, ebay, or addall.com.
5. Christmas Day in the Morning by Pearl Buck is probably the least-known yet has become one of my most-loved books among the list. This simple picture book depicts an unspoken, yet deeply felt love between a father and a son. The young boy makes a selfless choice in order to show his father the depth of his appreciation, and they are both blessed deeply as a result. Life is found when one lays down his own comfort on behalf of another. I cry every time I read it out loud.
4. A Tale of Three Trees reminds us that God's plan often differs from our own expectations and dreams - yet it is always best. A beautifully-illustrated book that can (and should) be read during both the Christmas and Easter seasons.
3. The Jesse Tree by Geraldine McCaughrean
is ideal for children of elementary age through adults, and can be used as a family or personal devotional during advent.
As an old man whittles away at creating a Jesse Tree for his church, each symbol carved introduces a story from the lineage of Jesus. We are reminded that all of history, beginning in the Garden of Eden, was in preparation for the One who would come to save us.
2. A Christmas Carol by Charles Dickens. It just gets better through the years.
*
You can download
A Christmas Carol
for free at gutenberg.org
1. The Year of the Perfect Christmas Tree by Gloria Houston will forever be one of our "staple" Christmas books. It's simple, sweet story about an Appalachian family which is preparing for Christmas while at the same time longing for the father, who has yet to return from the war. It's a story of hope, family, faith, perseverance, and Christmas miracles.
Wow. That was harder than I thought it would be. I feel compelled to console the books that didn't make the list by assuring them they'll be included next year. Hmmm.
If you're a lover of books, I hope that you've found something new to add to your collection.
If you're not, I'd invite you to discover a new treasure to add to your Christmas memories.
During a season that is marked by food prepared to delight the palate, decorations hung to please the eye, and music played to bring joy the ear, it seems fitting that we carefully choose and read books which will nurture the soul.