Having grown up in a small town in the mountains of Tennessee, my worldview was largely shaped by the individual faces in our small community. I had one friend who was Jewish. One was Catholic. One who wasn't aloud to wear shorts because they were too revealing. Another who actually took her Bible to church. These differences never caused division – they simply provided the adjectives with which each family was described.
Friends' distinctive religious celebrations brought a welcome diversity into a fairly homogenous community. To attend a bat mitzvah in our little town felt somewhat cosmopolitan. The cross of ashes worn on the forehead of a few classmates evoked a subtle sense of mystery. We respected the differences of our faiths. However, to cross over the line between respecting and learning from one another felt too bold and uncertain.
As a young adult, my experience of God shifted from one of inherited religion to one of chosen relationship.
Gradually, I began to suspect that I might have something to learn from the different ways in which others encountered, experienced, and worshiped God. I wanted His life, His teachings, and His ultimate death and resurrection to be more than an intellectual assent or a religious practice. I was not longer content to just know about Him.
I wanted to know Him
.
An attempt to move beyond wanting toward knowing came shortly after I graduated from college. Every Wednesday during Lent, I slipped out of my office at the bank and walked down the street to attend a church service. The choice in church was not deliberate or intentional - it's location and schedule simply made attendance relatively easy. Each sermon focused on one of the people involved in the Passion of Jesus. Preparing for Christmas had been an expected part of my annual tradition. Preparing for Easter had not. Intentionally altering my routine, in order to focus my heart, changed my experience of the season. It changed me.
As we consider the world in which Jesus walked, he encountered primarily two kinds of people. Those who held so tightly to their systems of religion and life that they missed Him, and those who were curious enough to follow. As we embark on the season of Lent, we all bring our childhood history, our adult experiences, our preconceptions, and our annual rituals (or lack thereof) along with us. Although these bring a sense of tradition and security, I wonder what it would look like if we allowed ourselves to become curious...
~ Curious about how others commemorate the next 40 days
~ Curious about the "whys" behind the Lenten traditions practiced by others
~ Curious enough, perhaps, to slip into a service at a different church, read a new book, or alter our routine in some way to make more room in our hearts for the season ahead. And ultimately, to make more room in our hearts for the One who came to rescue us from ourselves.
I want to see Him with fresh eyes.
I didn't grow up in, nor do we currently attend, a liturgical church which formally celebrates the season of Lent. However, I look forward to the next four weeks with great anticipation. We'll be reading as a family, I'll be reading on my own, and we plan to attend Vespers at a local Abbey. Our choices will most likely differ from yours, yet the hope is that we all approach this season not with a sense of duty or habit, but with a renewed sense of wonder and curiosity.
A few suggestions if you're looking for books:
If you have children, or enjoy reading historical fiction, I'd highly recommend reading Arnold Yuletide's book, Amon's Adventure. Written by the author of the Advent series Jotham's Journey, each of the 28 chapters is a great read-aloud which provides fodder for rich conversation and reflection. It paints a vibrant picture of the political, social, and religious climate in which Jesus lived. Amon's Adventure illuminates the complexity and confusion Jesus' ministry brought to those who loved and were trying to obey Yahweh. Jesus wasn't what they were expecting. That same tension exists to some level for all of us today.
This year, I have discovered and soaked myself in the writings of Walter Wangerin, Jr. I referenced the book Miz Lil and the Chronicles of Grace in my "Top 10 List" for 2011, and I've been lining up his books in my reading queue ever since. I started reading this morning.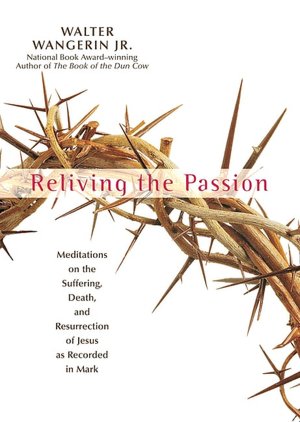 Life of the Beloved by Henri Nouwen has become one of those staple books in our library to which I return again and again.
I'd love to hear from anyone who is willing to share books, resources, or traditions that have been meaningful to you during this Lenten season. You'll be an encouragement to others. Perhaps you'll peak their curiosity. Blessings to you and yours.